School is out and Summer is in! Whether it is enrolling your child in a Tampa Bay Area Summer Camps or visiting one of the popular Tampa attractions, there is always something to do.
Spend the summer exploring all the free and cheap things to do in the Tampa Bay Area. From free movies, bowling, golf, discounted museum admissions and more. There's something for everyone to do.
With this comprehensive list you will have no problem planning a family outing that is easy, free, and cheap. Here is a great list that will keep you out and on a budget this summer.
Ready for the best summer around Tampa?
Please Note: This article was accurate the day it was posted. All prices, offerings and dates are subject to change without notice. Please contact each location and attraction for up-to-date rates and information before heading out. Please check out each businesses COVID-19 precautions. Stay safe out there.
Disclosure: Affiliate links may be found throughout this post. When you purchase anything through our link, we may make a small commission at no additional cost to you.
75 Free & Cheap Summer Guide
Watch Movies at Theaters or at Home
Summer Deals
Home Fun
Indoor Attractions
Outdoor Fun
Tampa Bay Museums
Educational Resources
Sporting Activities
Parks & Nature
Water Activities
Food Deals
Let's start this summer with the ultimate list of free things to do in the Tampa Bay area. We already knew there were so many free events, but now you can explore these free family outings on a daily basis. Come back often and share this list with a friend. 
There is no shortage of free museums to visit in and around Tampa, FL.
Explore the 101 free things-to-do list for these free opportunities to visit a local Museum practically every day of the week.
Watch Movies in Theaters or Drive-Ins
There is a great selection of new release movies and older ones that you can watch for $5 or less per person. Click on the links below to see the full movie schedule. 

Movies: Free & Cheap
FREE & Up MOVIES
1. Xscape Riverview Theatre is one of the only indoor movie theatres that offer free movies! You'll want to catch the full schedule before heading out. 
3. Plan on visiting Zephyrhills Cinema on Tuesdays or Wednesdays for their summer kids' movies. Tickets are $1 each.
4. Switch it up! Watch a movie for cheap at one of Tampa Bay's Drive-In Theatres. They are affordable and many include two movies for one price.
6. Special Needs: Studio Movie Grill in Seminole offers sensory-friendly screenings that are free for children with special needs and their siblings. Click link above for the schedule.
7. AMC $5 Fan Faves watch some of your favorite movies on the big screen on select days.
8.$2 Tuesday & Thursday Movies @ GTC Beacon Brooksville Cinemas
9. Every Tuesday, Regal Cinemas offers $5 & Up movies when you join the Regal Crown Club (RCC) and become a member for free. If you sign up you'll also get  50% off popcorn! Local locations include:
10. Regal Cinemas:  $2 movies at Regal Cinemas on Tuesdays and Wednesdays. They provide you with two movie options on each of those days. Locations in Tampa, Pinellas Park, Largo and Port Richey.

SUMMER DEALS
Summer is all about deals! With over 70 days of summer break with the kids, doing things together can quickly add up. Make sure to take advantage of these deals before planning your summer adventures.
1. We purchased our Entertainment Book and we love that it has an online app that gives us alerts to help us save money this summer. This deal won't last long. Take advantage of this amazing price before it goes up to it's regular price.
2. If you are visiting the Tampa Bay Area then you definitely want to take advantage of Tampa Bay CityPASS. The Pass includes one low price to five Tampa Bay attractions, including Busch Gardens, ZooTampa at Lowry Park, Florida Aquarium and more.
3. For the month of June, Imagine Museum in St. Petersburg will offer $5 admission in for Pinellas County residents. Use discount code JUNE5 at checkout.
4. Not sure what to do? Always check Groupon for amazing deals on food and things to do.
4. Vacation Bible School is back in session!
Check out the updated 2022 VBS Guide list.
Indoor Fun Attraction Deals
Take a break from the Tampa Bay heat with some fun indoor attractions. Many of these activities can be enjoyed by every member of the family and when you take advantage of their discount days and offers, it can also be a very affordable family outing.
1. Visit Busch Gardens, MOSI Tampa, The Florida Aquarium, and other Tampa Attractions for 53% off through CityPass.
2. Glazer Children's Museum offers FREE admission on the first Tuesday of the month.
3. Visit a Tampa Bay Area museum daily for FREE admission. Monday-Sunday there is an option for families.
Examples include: 
The John & Mable Ringling Museum
Glazer Children's Museum
Tampa Police Museum
Tampa Museum of Art
See the full list of local museums that offer free admission. 
4. Kids Skate FREE in Brandon, Lakeland, Pinellas, Tarpon Springs and many other roller skating locations.
5.  Bowling: Kids bowl free and cheap at select Tampa area locations. Check out our ultimate guide to free & cheap bowling centers for the summer.
6. Roller Skating: Find affordable fun at United Skates of America for Kids Fun Skate every Saturday morning from 10am-Noon for $6 per person (includes skate rental).
7. United Skates of America also offers Cheap Skate every Tuesday night from 6:00-8:00pm. Featuring Top 40 Pop Music and it's fun for all ages Admission: $5.00 per person and it includes skates.
8. Indoor Bounce Amusement Park: BOGO Thursdays at Airosphere in Tampa. Whatever time at full price you purchase, they will double for free!
Got a teen? Teen Night at Airosphere for $26.25, every Friday 8:00 PM – 10:00 PM. FREE Personal Pizza with refillable Drink!
9. Visit the Alligator Attraction & Wildlife Center for affordable family fun. Kids tickets start at only $7 in Madeira Beach, FL for a great day trip.
9. Add ice skating to your summer fun list. While you don't see a lot of discounts with ice skating, it's a fun family activity. Check out these fun options for ice skating:
AdventHealth Center Ice in Wesley Chapel has a beautiful ice skating facility and while you're there to skate, schedule a FREE behind-the-scenes tour of their facility and watch elite skaters daring maneuvers on the ice.
10. Go carting at Tampa Bay Grand Prix for an indoor experience if you're near Tampa, Clearwater or St. Petersburg. They have some weekday specials, please call to confirm if they are available during the summer season.
11. Get the Vertical Ventures St. Pete Multi-Visit pass for some rock climbing fun! The best part, the multi-visit passes are 25%-35% off regular admission:
Shareable with friends & family
May use multiple passes on the same visit.
Transferable
Includes Rental Harness
Never Expires
Free Arts & Crafts
1. Saturday and Sundays @ The Morean is a FREE family drop-in art and clay studio hosted by the Morean Center for Clay. Now, it will just require pre-registration, in order to keep group sizes smaller. Art projects run from 10:30am – 2:30pm.
2. Yes, IKEA Tampa is a furniture store. But it's also a great place to spend an air-conditioned day. The store offers free crafts and sometimes they offer free kids' meals. Check the store's schedule for upcoming free craft events. 
3. Register for a free craft kit at Lowes for their Kids DIY workshops. Sign up early as they fill up every month.
4. On the second Saturday of the month, meet artist and gallery owners at the St. Petersburg ArtWalk. The event is from 5 p.m. to 9 p.m. and features over 40 studies and galleries from the five Art Districts. Discover wonderful masterpieces, visit your favorite artist, or find a new one. Many studios/galleries celebrate the opening of brand new exhibitions during ArtWalk. As you visit and discover the map of artists, you make an evening of it and stop for dinner, drinks, or dessert.
Outdoor Fun Deals
Don't want to feel cooped up in your home, you and your family could use for some affordable fun outdoors. Here are some ideas for a fun outdoor adventure around Tampa Bay.
1. Kids Golf for FREE at Ace Golf locations in Hillsborough and Pasco counties. You can switch the bucket of balls to a game of free miniature golf at two of the locations.
See all the details here.
2. Go carting and miniature golf is a fun option at Celebration Station in Clearwater, FL has some amazing deals that include miniature golf and other fun indoor and outdoor activities.
3. ZooTampa at Lowry Park is offering eligible Hillsborough County Government team members one complimentary admission for the employee, plus a 25% discount for up to three additional guests. Learn more. Offer valid from June 1 – Sept. 1, 2022.
4. Take a ride on the Largo Central Railroad's miniature train on the first full weekend of every month on a 1 mile route through the beautiful Largo Central Park. Free Admission. Donations Accepted. 
5. Visit St. Pete Pier – St. Pete Pier is a favorite among tourists and locals because of the variety of activities there that you can do for free and low- cost. You can stroll along the pier, eat at the marketplace, shop, have the kids play on the colorful and magical playground or even get wet at the interactive splash pad. 800 2nd Ave NE, St. Petersburg, FL 33701.
While at the St. Pete Pier, visit Tampa Bay Watch Discovery Center for a pit stop to all things marine life. It's a very small center but The Discovery Center tells you the story of Tampa Bay's vast and complex estuary — its history and recovery, and our organization's pivotal role in that effort.
6. Go For A Bike Ride At Tampa's Suncoast Trail for FREE. Spanning 42 miles, Tampa's Suncoast Trail passes through a pleasant mix of suburban, agricultural, and natural areas. Pause for a tranquil moment with the scenic views at the Jay B. Starkey Wilderness Preserve. Plan your day here. 
7. Explore Tampa Bay's Best Hiking Trails. Need fresh air and exercise? Set up the alarm and hike on any of the epic trails at Tampa Bay. Whatever your comfort level,  there is surely a trail for you. Pack a picnic meal for a nice break in between your hike. Choose from the best hiking trails.
8. Plan a day at the beach. Tampa is lined with top-rated beaches, so it's time to catch up on some much-needed sea breeze. Outside of parking at some locations, beaches are a great free family outing for families.
Not sure where to go? Here are some of the best beaches.
9. Go Horseback Riding At Cypress Breeze Farm. Whether you're both passionate about horseback riding or simply want a new experience, horseback riding at Cypress Breeze Farm is a fun family activity. They have a variety of trails to challenge or mesmerize you. Learn more here.
10. Going on a walking or drive-by mural tour is free every day. Walking is a great exercise for everyone. It's fun and relaxing, too.  Florida has a lot of interesting and scenic cities that you can appreciate better with a walking tour.
Curious about the Sunshine City? Try the St. Petersburg History Mural Tour.
Immerse yourself with Tampa's Downtown Murals.
Find even more murals in Tampa.
11. Visit a small zoo or petting farms for fun interaction with animals. Check out these low-cost zoo/petting farm options.
Jenny's Petting Zoo, Free admission Saturdays and Sundays. (12611 Andrews Rd., Wimauma FL 33598)
Only $5 admission to petting zoo & playground at Hunsaders Farm in Bradenton.
Visit Old McMicky's Farm in Odessa, FL (A little higher priced but you get a lot for your buck)
12. Take it outdoors and visit the Heritage Village, a 21-acre open-air living history museum in Largo, FL. Come visit more than 31 historic structures and it's free admission for everyone to visit and explore. Bring some good walking shoes and sunscreen.
Tampa Bay Museums 

Museums are a great way to spend the summer days with the family. Thankfully, the Tampa Bay area is home to many museums and some offer discounted or free days or hours that you can visit. Check out the great selection below.
Family-Friendly Tip:
1. If you have a membership to any museum, they may also offer discounted admission or free admission to other museums around Tampa and the United States. Members on average get FREE or 50% off of reciprocal membership programs.
2. If you have a car enthusiast in the family, make a pit stop at the Tampa Bay Automobile Museum in Pinellas Park. It is FREE for children under 12 and it's only $8 for those 13 and up.
3. Every Monday gets you free admission into the the beautiful Ringling Museum in Sarasota. So many beautiful art pieces to see. They also have beautiful rose garden and that's all apart of the free admission. Definitely worth the visit.
4. Museum for All. Visitors with a SNAP (Supplemental Nutrition Assistance Program), WIC (Women, Infants, and Children) or other EBT (Electronic Benefit Transfer) card receive free or reduced priced Museum Admission for up to 4 guests at these participating museums. 
Low income families can visit

 The Ringling Museum, MOSI, Great Explorations Museum and others through Museums for All program.
5. Visit Busch Gardens, MOSI Tampa, The Florida Aquarium, and other Tampa Attractions for 53% off through CityPass.
6. Art on the House: Visit the Tampa Museum of Art on Thursday evenings from 4 – 8 p.m. for Pay-as-you-will admission. Make a donation if you would like or simply pay nothing, either one will get you into the museum.
7. The Replay Amusement Museum in Tarpon Springs is home to more than 100 pinball games, video games and other amusements that you can actually play. No need to bring any coins. One admission fee gives you access to all of the machines.  The museum opens Thursdays-Sunday in Tarpon Springs and admission is $8 for children 7-12 years old with a paying adult and $14 for Adults. Children ages 6 and under play for FREE with paying adult. 
8. Imagine Museum in St. Petersburg, FL has a Summer Special! Enjoy $7.50 admission all summer long for Tampa Bay residents. Use code: IMLOCAL. Visit this beautiful contemporary museum that showcases glass artworks from around the world.
9. Visit the Ybor City Museum from Wednesday-Sunday and take a walking tour around this historic city for $4 per person, which includes Museum, garden, and Casita. Children 5 and under are free.
10. On the weekend, explore dozens of art activities at Children's Art Museum at the Dunedin Fine Arts Center for a budget-friendly price of $4 for non-members. Free admission for children 2 and under.
11. Check out a bit of history in Pasco County by visiting the Pioneer Florida Museum in Dade City. Kids under 5 get free admission, $5 for students and only $10 for adults. Lots of open space and great for social distancing and a fun picnic opportunity on the grounds.
12. Henry B. Plant Museum participates in downtown Tampa's monthly Fourth Friday celebration.  Enjoy an evening of special offerings and discounts at cultural venues, restaurants, and more.  The Museum offers free admission, a guided tour, and entertainment on the Veranda from 5-7 PM on the fourth Friday of each month, January – October. Learn more. 
Sporting Activities
1. Tampa Tarpons minor league baseball deals! Enjoy a game for only $8.20 per ticket, plus free parking, and weekly food specials at the Tampa Tarpons game.
Every Thursday for the Tampa Tarpons home game, fans can stop by any City of Tampa Fifth Third Bank location to receive four free tickets to any Thursday Tarpons home game. PLUS fans can enjoy five select concession items for $3 each through the fifth inning.
Stay Local Deal: For every two (2) Tarpons Sunday game tickets purchased, receive one (1) FREE pass to a local area attraction. *Local area attraction pass is for paid tickets only, while supplies last. Pick up at the stadium the day of the game.
2.   The Clearwater Threshers baseball game has some amazing deals almost daily for some fun deals.
Dollar Tuesdays: $1 hot dogs, 12 oz. fountain sodas, peanuts, popcorn, and other concession goodies. Plus, $1 berm tickets are available.

A $25 membership per year, the Lil' Anglers presented by BayCare Kids and Tampa Bay Times meets on Thursday home games for children 13 and younger. For only $25 a season, members receive tickets and food vouchers to all 10 Thursday home games with special activities, plus exclusive gear like a Lil' Anglers T-shirt and hat.
3. Game pack deal from the Dunedin Blue Jays starting at $28 at 4+
[_group id="1002″]
Parks & Nature
There are so many beautiful wildlife, vegetation and trails to see and explore. Stay active and be prepared by bringing lots of water, sunscreen and a snack when out and about. Make it an enjoyable family adventure.
1. While you're at Indian Rocks Beach, stop by Seaside Seabird Sanctuary for free admission. Children will love seeing the huge variety of birds.
2. Visit the beautiful Hillsborough River State Park,  and check out their Class II rapids along your hiking trail.
3. Check out the beautiful trails and boardwalk at the Upper Tampa Bay Trails in Tampa and  Weedon Island Preserve and Boyd Hill Nature Preserve Park in Pinellas County.
4.  Some of our favorite parks include: 
Lettuce Lake Park in Tampa, FL.
Largo Central Park, Full of interactive play features, synthetic turf safety surface and lots of green space.
New Tampa Nature Park, Features paved & unpaved trails for hiking & cycling, plus a zip line & ropes course.
Julian B Lane Riverfront Park, Playground, splash pad and green area to relax.
5. Stop by the beautiful 30 acre Florida Botanical Gardens for free in Largo, FL.While the Florida Botanical Gardens is not technically a museum, you will be amazed at how much you will learn and the many species of plants you will encounter. Pack a picnic  lunch and take a stroll through the gardens.
6. Get discounted admission to Sunken Gardens in St. Petersburg, FL by grabbing this limited time deal.

Water Activities
Cool off this summer at one of the many water parks, pools, and splash pads available around Tampa Bay. Help your kids stay active, all while having fun. Slather on the sunscreen and take a refreshing swim or sunbathe on the beach for a few hours. 
Springs
1. Visiting local springs can be an affordable option for families. You can visit Weeki Wachee Springs State Park and many others.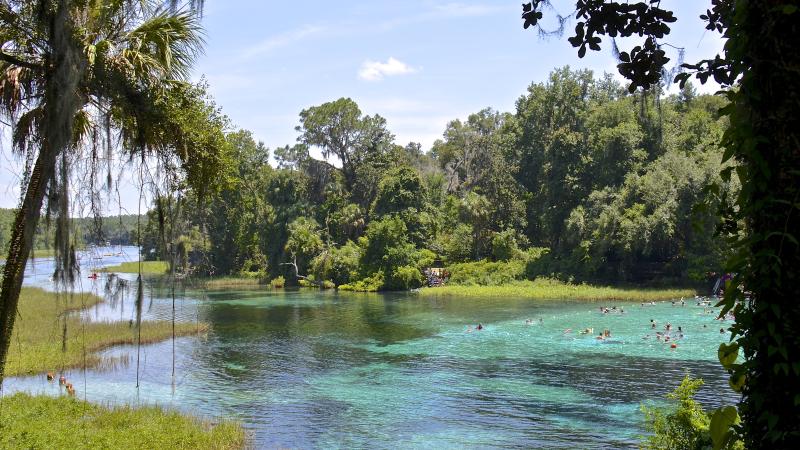 Beaches
2. The biggest and the most visited Tampa Bay area attraction is our beautiful beaches. Some of our favorite beaches include:
At the top of our list is  Honeymoon Island beach, it is a perfect way to spend the summer days.
Sand Key Park has playgrounds, grills, and a dog park for the whole family to enjoy.
Pools
3. Don't have your own personal pool? No worries. Many Tampa Bay Metropolitan YMCA & Suncoast YMCA offer free or affordable admission for non-members at their pool or water slide parks during the summer. Make sure to call your local YMCA to see if they are participating and dates and times for admission.
Make it a family pool day at some of these family-friendly locations:
4. Hillsborough County 
5. Pasco County
Visit the Epperson Lagoon near Wesley Chapel for some local fun. It's a little higher priced then other attractions, but an available option.
The Lift Adventure Park operates the aquatic attractions, including the wakeboard cable, the Aqua Park, and paddlesport rentals in Sunwest Park in northwest Pasco, just off of Hwy 19 in Hudson.
6. Pinellas County
Take a dip at the large pool at the City of

Dunedin

Highlander Pool

for $3 admission. The Sprayground is in the same park which doubles the fun.
Splash Pads/ Sprinkler Parks
Admission or Membership Based
1. Splash Pads can be found in all the major Tampa area attractions like
Busch Gardens, 10165 McKinley Drive, Tampa
ZooTampa at Lowry Park, 1101 Sligh Ave, Tampa
Adventure Island Water Park, 10001 McKinley Dr, Tampa
Florida Aquarium
Free Entrance Splash Parks
2. If you don't have a membership to a Tampa Attraction, check out these free or low cost splash parks below. These are a few of our favorites:
Great splash pad at Dell Homes Park in St. Petersburg. Shaded picnic shelters offers a great place for parents to watch the kids. Playground is super interactive and fun.
The Water Works Park in downtown Tampa has a huge water bucket, scenic view, walking paths and close proximity to downtown attractions.
Colorful water fixtures at the splash pad at the Ballast Point Park in Tampa. It has an amazing view of the bay and multiple playgrounds makes this a fun family spot.
All Person's Rotary Park has a great playground area tucked into the Brandon community, in addition to their splash pad area.
FOOD DEALS
1. Kids eat FREE & CHEAP across Tampa Bay. Tuesday is definitely the most popular day, so make sure to check our our Ultimate Guide to Kids Eat Free & Cheap. Please call ahead as some restaurants may have changed their policy or have closed. 
2. Children 18 years and under can also eat free at designated Summer Breakspot locations throughout the summer. No child should have to worry about eating a healthy meal in the summer.
Home Fun
1. Grow a Garden. 4 Ways To Grow A Garden At Home With Your Family. Learn more.
2. Check out our Boredom Busters of 100 Things to do at Home with the Kids that are free or really cheap.
3. Don't want to go out? Plan a date night at home with the family.
4. Celebrating a birthday this summer? Explore these 7 Birthday Party ideas you can do at home.
5. Game Night!! We've got some great ideas to keep your the whole family entertained. Learn more.
Educational Resources
Who says summer can't be fun and educational? There are so many ways to make your summertime with the kids filled with learning. You can even make it something that the entire family can participate in doing.
1. Kids can earn prizes from Tampa Bay Rays by taking part of the Reading with the Rays program.
2. Check out our 2022 Mega List of Tampa Bay area and national summer reading programs that earn kids 18 and under prizes and treats.
3. Why not try a virtual summer camp resources with Varsity Tutors. You'll be amazed at the variety of free virtual opportunities, from cooking camps to special needs and everything in between. Learn more.
4. Find summer camps in all budgets. Check out our master guide to summer camps in the Tampa Bay Area.
BECOME A FAN:
 Become a fan on Facebook, Twitter, Pinterest, and Instagram for daily updates.